Mader, the major builder of Tempests, is located in Bavaria, which is also the geographic center of Tempest events in Europe, so that's where we leave our boat between regattas.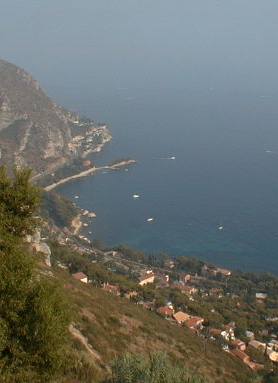 We fly to Munich, and are met in early morning at the airport there by the daughter of one of our oldest sailing friends. By noon, we've picked up both our boat and a rental car with a trailer hitch, and are headed south. An hour's drive brings us to the autobahn route into Austria, where the official speed limit for a vehicle with trailer is 80km (50 miles) per hour but many sailors cruise at 120km. (No one uses safety chains between autos and trailers here, by the way Ö it's not a requirement and the locals don't see the need because there's never a problem! And what beautiful trailers they build here, with radial tires and torsion bar suspension so the keel does not have to ride above an axle, and therefore with low windage and a low center of gravity.)
South from Innsbruck, we drive up, up, over the Brenner Pass into Italy, t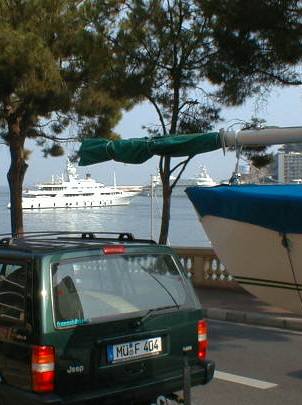 hen down, down, down, past Lake Garda with its overhanging cliffs, and into the Po River Valley flatlands. The next day, we continue south, climbing again into the rugged coastal range to catch our first view of the Mediterranean Sea while still a few thousand feet above sea level. We skirt the west side of Genoa and turn right, following the coast in a constant succession of viaducts and tunnels for a few more hours' drive into France. A spectacular highway.
Immediately we come to Monaco, where we get off the autobahn and descend into Monte Carlo. Still with the boat behind, we drive around the Grand Prix race course familiar from years of television broadcasts ... around the turns by the casino, accelerating under the tunnel, past the swimming pool, and into the hairpin below the palace. How do race car drivers concentrate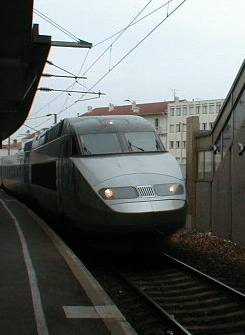 when there are so many huge yachts to look at right alongside?
Then onward, past Nice and Cannes to our destination, the coastal city of St. RaphaŽl. Upon arrival at the waterfront, we immediately see Tempests in a parking lot, and we disembark among old friends. Sixty-two boats are expected, they say.
The next day we have lunch in St. Tropez at a spectacular home on a hillside, high above the bay, then return to St. RaphaŽl to pick up Rodger and Diana Voss at the train station, where they arrived on the TGV (high-speed train) from Paris. Back at the waterfront, we see that Tom O'Hara and Dave Lavis from the Annapolis Fleet have also arrived with their borrowed boat, having completed the same trip we did.